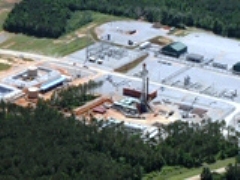 Enstor Gas acquired the Mississippi Hub gas storage facility from Sempra Energy earlier this year, and Enstor representative Jason Mire in a recent visit to the facility presented SCDF with a $5,000 check, renewing SCDF membership at the President's Circle level.
David Merchant is the new Facility Manager at the Hub. We in Simpson County value the Mississippi Hub, LLC, as an industrial member of our economy and our community, and we are happy to know that it is now a part of the Enstor family of facilities, as Enstor takes an active role in our community.
Having at the same time acquired Bay Gas in Alabama, Enstor is now the largest natural gas storage facility in the country.