Site Selectors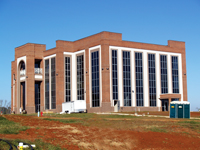 Welcome to Simpson County, MS!!! We are strategically located on U.S. Highway 49 just 40 miles South of Jackson, MS. Please take a moment to browse our website where we hope that you will find answers to any questions you may have. If you can't find what you are looking, please do not hesitate to contact us, and we will be glad to assist you.
CONNECT WITH LOCAL REALTORS
CURLEE REALTY — CHRIS CURLEE, BROKER
JEFF BOONE REAL ESTATE & APPRAISAL SERVICE, LLC
Simpson County Advantages
Transportation
Simpson County is a "hassle-free" transportation hub. U.S. Highway 49 traverses Simpson County in a north-south direction connecting the country to the south with the Mississippi Gulf Coast and to the north with the Mississippi Delta. A main line railroad and a general aviation airport are located in Simpson County. Jackson-Evers International Airport is located only 40 miles away and the Vicksburg Mississippi River Port is located 90 miles away. All of these services are available at substantially less than average costs and without the congestion of major metropolitan areas.
Health Care
An above average level of health care is available in Simpson County. Two general hospitals, along with numerous physicians, dentists, and other medical realted services form the basis of a comprehensive health care system. This system is capable of providing critical care, a commodity rarely found in somewhat rural areas similar to Simpson County.
Commitment to Economic Development
A spirit of cooperation can be found throughout the county. By citizens taking active roles in local issues such as education, Simpson County shows its commitment to producing a thriving economy. We realize that businesses have special needs and considerations. In order to accommodate those needs, city and county departments are structured, as well as staffed, to be flexible and understanding to private businesses. Business permits can be obtained easily without the hassle found in most larger cities.
Favorable Tax Structure
Tax rates for corporations are exceptionally low and many industrial taxes have been eliminated altogether. Add to this the fact that personal taxes, unemployment taxes and workers' compensation premiums are among the lowest in the nation. This translates into businesses keeping more of their profits and workers keeping more of their earnings.
Dependable Utilities
Entergy, Southern Pine Electric Power Association, and Spire Entergy [Wilmut Gas] offer efficient, clean power supply to Simpson County. While these companies meet the utility needs of the county, municipal and association owned wells meet the water demands. Sewage lagoons and water treatment facilities are utilized for waste treatment. Incentives such as free-line extensions and reduced rates are available to industries. Not only are residential rates economical, but the utilities also provide dependable systems, which allow sophisticated computer networks to operate without interruption.
Mississippi Advantages
Investment
Mississippi welcomes and supports business ventures that create new opportunities for its people. You can see it in the incentives and tax advantages offered. You can see it in the attitudes of leaders, you can see it in the success ratios of new and expanding businesses.
According to an independent study by a major American manufacturer, Mississippi's business climate ranked number one among 23 states in which it has manufacturing operations. Factors weighed included taxes, unemployment compensation, workers' compensation, labor, transportation, energy, health care, job growth and quality of life.
Top Reasons to do Business in Mississippi:
Favorable Operating Costs Including Low Taxes
Strategic Location in the South Central U.S.
Quality Workforce and State Sponsored Training
A Fair Legal System with the Tort Reform Act of 2004
Progressive Financial and Tax Incentive Programs
One-Stop Environmental Permitting
Solid Transportation and Utility Infrastructure
Infrastructure
Mississippi offers a strong, supportive business climate, where the cost of doing business is low and many other tools are available to help your business compete in today's economy. Locations within Mississippi can offer companies substantial savings compared with many other parts of the U.S. For more information on Mississippi's Infrastructure, please click the link below.
Quality of Life
Short commutes. Fresh air. And a festival every weekend. Mississippi offers a quality of life second to none. You can enjoy your choice of championship golf courses that have hosted many PGA, LPGA and Senior PGA events. Discover the roots of Rock and Roll in the birthplace of the King himself, Elvis. Explore the stomping ground of such famous writers as John Grisham, William Faulkner, Eudora Welty, Willie Morris and Richard Wright. Every four years, you can watch the USA International Ballet Competition in Jackson, named the permanent American home by the United States Congress. But if you want to relax and enjoy down-home Southern hospitality, just go to any one of the more that 300 annual festivals celebrating everything from Mardi Gras to antebellum pilgrimages.
Additional attractive features include:
Cost of living 10 percent lower than national average
State-of-the-art medical technology
Over 300 annual festivals
Average temperature of 65 degrees
Over 35 national and state parks
Museums around every corner – celebrating everything from natural science to the blues
Over one million acres of hunting land and abundant freshwater and saltwater fishing
Target Industries
Mississippi is a great place to do business in almost any industry. We have compiled a selection profiles detailing the advantages of locating in Mississippi for a variety of sectors. To view detailed information on Mississippi's Target Industries, please click the link below.